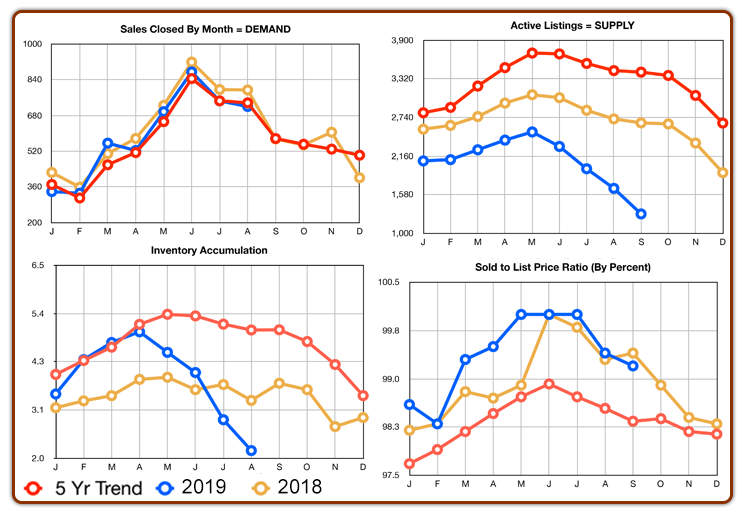 The bad word "RECESSION" is starting to light rumor fires and its beginning to effect the decisions potential buyers make. This very much could be a self fulfilling prophecy however the real estate market isn't showing many signs of slowing. Let's look at the details…


DEMAND: Demand or number of sold homes continues to remain steady and in line with last years numbers. It hasn't show much of any signs of shifting at this point. Buyers are still plodding along steadily.


SUPPLY AND INVENTORY ACCUMULATION: This is where it gets very interesting. As you can see, supply and inventory have been taken a plunge since May, despite demand not growing when compared year over year.

In addition, when looking at the number of homes listed, that number is keeping up with last year as well. We are not entirely sure, at the moment, what exactly is causing this drop in inventory, we can only assume that there is some data being missed by the newer MLS system somewhere.
What is clear is that there are not as many homes available to purchase this year as last year and that creates a lot of challenges for buyers in these current conditions.


SOLD TO LIST RATIO: This statistic still remains incredibly high at 99.2% of asking price. This clearly tells us that buyers must submit VERY strong offers, may time, offering over asking price, if they are to be taken seriously. This can hard for buyers to hear, yet this is clearly the market conditions being operated in.


CONCLUSION: The market is ripe for a softening/correction. Who knows when that will happen. The general media keeps talking about a looming recession, which is a self fulfilling prophecy. If they keep talking about it, folks will be scared to make moves and will create a recession. We've already spoken with buyers who are putting things on hold for this reason.

Let's talk about Sellers first – This market for sellers is bonkers. In most area's of the county, Homes are still selling in minutes and hours, not days, when the homes are priced right for their condition. This is not ALL areas but most. That means that pricing is more important than ever. If it's priced incorrectly, you could leave thousands on the table. If it's over priced, it will also cause you to lose thousands. Nailing that perfect price is crucial. An expert agent can help you do that.
The negative for sellers is if they are buying a home as well, it's going to be very difficult to find a great fit if your home sells very quickly. It severely limits their choices. What we've seen work well is either moving twice, meaning they move into a temporary situation or they rent the home from the new owners for short amount of time. That is not always possible though.

Next, what does this market mean for Buyers – Money is CHEAP! This allows buyers to buy a lot more house than they could have even 9 months ago. The "con's" are that there is very little to choose from and when great options become available, they've got to be ready to make an extremely strong offer, many times at or over asking price and compete agains 5-10+ offers. We are seeing that the average buyer is making roughly 3 offers before they get one accepted.

Overall, homes are at their highest values in history and yet money is at it's cheapest to borrow. And in the end, regardless of the pro's and con's, it's a great time to buy or sell real estate. If you are looking for very strong and professional representation, please give us a call! Our heart is to dramatically impact lives through real estate and we'd love to become your Realtor for life.