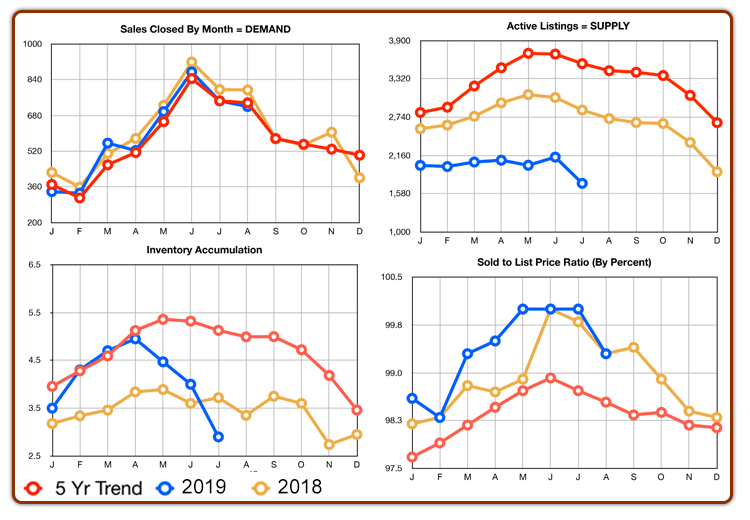 HIGHEST HOME VALUES…. EVER?
In many places in Chester County, we are seeing some of the highest values for homes ever. With money being cheap and inventory being historically low, it's driving prices to new heights. Luckily, appraisals are holding prices back from skyrocketing like they did in the early 2000's which means that when the market softens, we won't have such a drastic drop. Let's look at what this historic market in more detail.

DEMAND: Demand continues to fall behind last year, it's 16% below last year, in fact. At this point, it certainly appears that the cause is due to lack of choice for the buyers. That, of course, is an amazing opportunity for folks who want to sell their home for the highest value. It's clear that in most areas, the values for homes are at a point they have not been ever. That's right. Homes are generally worth more now than they ever have been. Let's look at supply and inventory…

SUPPLY AND INVENTORY ACCUMULATION:
Inventory accumulation has plummeted in the last 3 months. We usually do not see this until the end of the year and we believe this is due to less homes being listed over the last 2 years. Specifically, there is an 8% gap between the number of homes listed in both 2019 and 2018 versus 2017. Which means over the last 2 years the number of homes available has continued to get lower and lower.
There are pro's and cons to this for both buyers and sellers. I'll touch on this at the end of this article

SOLD TO LIST RATIO: After discussing the lack of supply, it's not surprise that the list to sale price ratio is so high. In fact in May, June and July, on average, sellers received 100% of what they were asking. This is almost unprecedented. It certainly hasn't been the case with in the last 14 years, possibly longer. This is great news for sellers.
RATES: We don't always discuss rates on this update, however, they are back to historic lows again. The average 30 year conventional rate is currently around 3.5%. This means that the cost of borrowing money is at another all time low. It's a great time to borrow money.

CONCLUSION:
Let's talk about Sellers first – This market for sellers is bonkers. In most area's of the county, Homes are still selling in minutes and hours, not days, when the homes are priced right for their condition. This is not ALL areas but most. That means that pricing is more important than ever. If it's priced incorrectly, you could leave thousands on the table. If it's over priced, it will also cause you to lose thousands. Nailing that perfect price is crucial. An expert agent can help you do that.
The con for sellers is if they are buying a home as well, it's going to be very difficult to find a great fit if your home sells very quickly. It severely limits their choices. What we've seen work well is either moving twice, meaning they move into a temporary situation or they rent the home from the new owners for short amount of time. That is not always possible though.
Next, what does this market mean for Buyers – Money is CHEAP! This allows buyers to buy a lot more house than they could have even 9 months ago. The "con's" are that there is very little to choose from and when great options become available, they've got to be ready to make an extremely strong offer, many times at or over asking price and compete agains 5-10+ offers. We are seeing that the average buyer is making roughly 3 offers before they get one accepted.

Overall, homes are at their highest values in history and yet money is at it's cheapest to borrow. And in the end, regardless of the pro's and con's, it's a great time to buy or sell real estate. If you are looking for very strong and professional representation, please give us a call! Our heart is to dramatically impact lives through real estate and we'd love to become your Realtor for life.