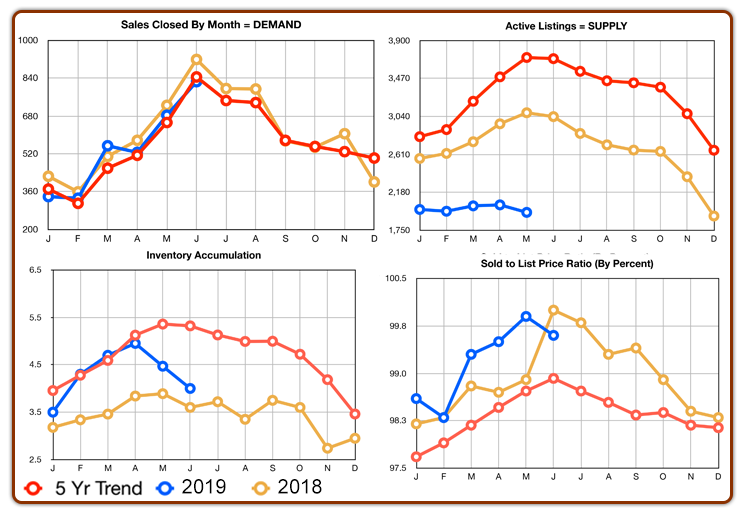 Things are getting weird… The statistics don't feel like they are telling us the straight story. Sure, inventory is low, homes are still selling quickly, but it feels like somethings brewing. Let's look at the details. . .

DEMAND: We are currently tracking about 8% less home sales than last year, which could be the lack of inventory. At the end of June last year, there had been just over 3,500 homes sold. This year it was about 3,250. However, when we look at the days on market (how long it takes to sell a home on average), it's taking 10% longer to sell a home this year which is a sign that the market is slowing. This is also something we are seeing in area's that have been really hot like West Chester and Downingtown, as homes are not selling in hours but in days or even a few weeks.

SUPPLY AND INVENTORY ACCUMULATION: We pull all of our information from our local MLS which has recently been acquired by a new company. We've found that their data recently has been a little… shall we say "Wonky"? It's changed a bit and these two area's have recently seen a big change. Based on that, we are going to refrain from giving any thoughts this month to see what happens. We don't want to speculate.
With that said, we know inventory is tight. That's a given. However, when you look at what the data suggests up through May of this year, the accumulation is more than last year and has been on par with the 5 year trend. When you combine that with the 10% increase in Days on Market, it does indicate a slowing market.

SOLD TO LIST RATIO: This datapoint remains high, HOWEVER, in June of 2018, it was at 100%. This year it's down at 99.6% and yet this is the first month this year that this stat has seen a drop over last year. Again, perhaps its a sign of things slowing.

CONCLUSION: To be honest, the numbers are not "business as usual" right now. I (Chris LaGarde) Have been doing this 10 years now and the stats are not giving us a straight forward story. There seems to be a lot of nuance in what they are telling us.
I (Chris LaGarde) personally lean towards a market slowing down mostly because they measure the market from the time it peaks to the next peak and historically that is a 7 – 10 year span.
The last peak was around 2006-2007, which is 13 or so years ago. We are over due. And yet, it is still an amazing time to sell a home as long as it's priced right and despite the lack of inventory, it's an amazing time to buy, due to the historically low interest rates.

If you are looking to have an amazing team of real estate professionals around you, to make sure you get the best deal either selling or buying, we would LOVE to interview for the job.

Call or text us at 484-696-4833 today.