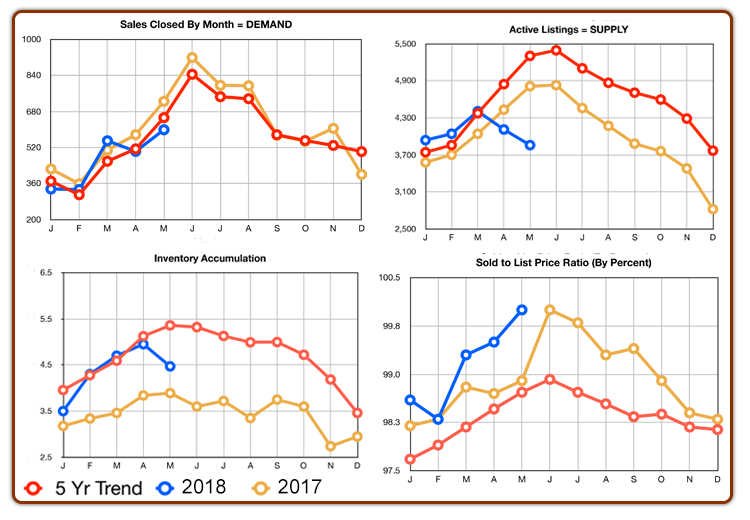 DOG DAYS OF SUMMER

The market feels like its in very strange territory. Homes are selling for 100% of asking price, inventory seems to be somewhat up, yet the "supply" is down. Let's look at the details.
DEMAND: Demand has slipped below the 5 year trend for the 2nd year in a row. May also makes the 4th out of 5 months this year that demand is below last year. It is difficult to say whether that is due to seeming lack of inventory or other reasons. It is clear that in many area's of the country, the market is legitimately slowing down. We can't quite say that here yet.

SUPPLY AND INVENTORY ACCUMULATION: Inventory accumulation is up yet supply seem to be sinking quickly, though we have our suspicions that it may not be as bad as the data we are gathering from the new system is showing it to be. However, when looking at overall accumulation, we are still running close to the 5 year trend, which is more indicative to a leveling off of the market, more than anything. With that said, in many places, buyers are still feeling the inventory squeeze. There isn't much to see and when good homes hit the market, they go quickly. This has been the case for a few years now and doesn't look to be changing currently.

SOLD TO LIST RATIO: In May, it was listed at 100%. So it appears that overall, in Chester County sellers can expect to get pretty close to asking, if the price is set well. This makes it very difficult and competitive for buyers. If the home has been on the market 30 days or less, they are going to have to offer asking price if they want to be competitive. In addition, we've seen some buyers waiving all inspections to be competitive. Please know that THIS IS NOT a good idea in ANY situation. We would never recommend or approve of a client doing this as it exposes you to tremendous risks.
Days on Market: One more thing to note is that the days on market has been consistently higher every month, than the same month last year. In fact, the running total this year is 336 days vs 306 last year which is a 9% increase over last year.

RATES: Rates continue to hold at levels within the mid 4s and in some cases have even seen a dip in the last few weeks. So we know this is not necessarily an issue for buyers, at least ones that are using conforming loans versus jumbo loans.

CONCLUSION: The market feels like it's in a weird place, at least to us. One one side, it's very competitive and on the other, there is something we just can't put our finger on. Seller's continue to get asking price or darn close, and homes continue to sell quickly; buyers have to be extremely competitive. At this point, you must be fully prepared to wade into the waters before you go and having a WELL VERSED professional on your side is extremely important.
Overall, the story hasn't changed much – sellers have it "easy", buyers are having a hard time finding what they want and if you are doing both, it's especially difficult because you can be at such a disadvantage if you have a home you must sell in order to buy. We deal with this every day. Please call us if you are looking to be in this position. We can help!!

Call us at 484-696-4833 and we will be available to help!