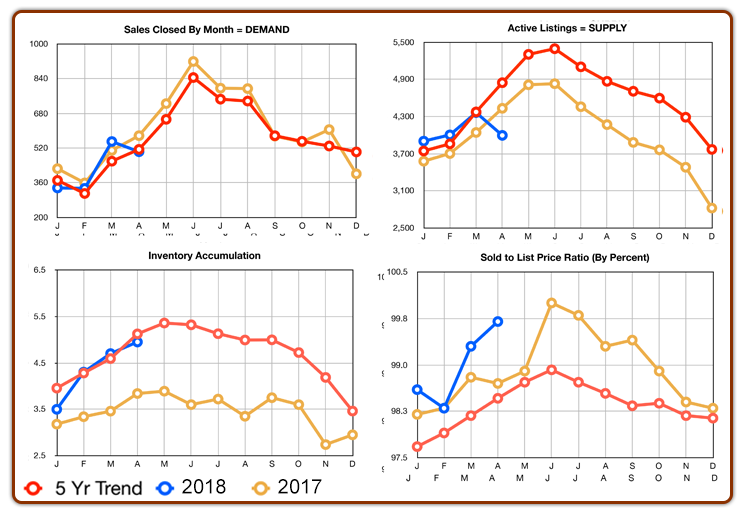 We've sold more than a home every day this month (It's currently the 13th as I write this). The market is clearly moving, the big challenge, as it has been, is finding the homes that meet your needs as a buyer. The challenge for sellers is how to get out of their home fast enough. Let's look at the details…


DEMAND: Demand continues to plug along at roughly the same pace as last year. We are still experiencing a lot of multiple offer situations and homes are selling quickly. Overall, demand is still very high for homes that are priced right and in great condition.


SUPPLY AND INVENTORY ACCUMULATION: This one is interesting… we updated the stats and it went from looking sparse to looking like inventory is rising quickly. There is a new system that started at the beginning of the year and we are still getting used to it. This may be why this stat has switched. Inventory accumulation is up over the same period last year. Last year it was around 3.5 yet this year it's between 4/5 and 5 months. We will continue to keep an eye on this.


SOLD TO LIST RATIO: It's up. Even though it appears that inventory is creeping up, the list to sale ratio continues to be very healthy. This is a reflection of what was happening 2-3 months ago AND sellers are getting more for their homes compared to their asking price at this time of year than ever. It's a great time to sell!


CONCLUSION: We can't dispute it – the market is blazing hot! There are areas of Chester County that are hotter than others, so if you are curious, please reach out! We'd love to help you discover exactly what the value of your home is doing.
Overall, the story hasn't changed much – sellers have it "easy", buyers are having a hard time finding what they want and if you are doing both, it's especially difficult because you can be at such a disadvantage if you have a home you must sell in order to buy. We deal with this every day. Please call us if you are looking to be in this position. We can help!!

Call us at 484-696-4833 and we will be available to help!