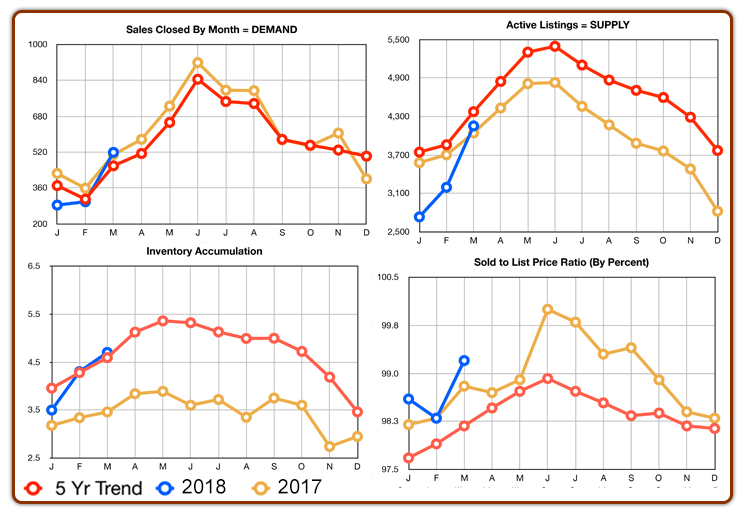 Spring is back, more homes are hitting the market every day, sellers still have the power and are getting 99% of what they are asking for and inventory is creeping up. Let's look at what all this means.

DEMAND: Demand continues to plug along at a steady pace yet seems to be hindered by lack of "Grade A" inventory. "Grade A" being homes that are price right for the condition and value they represent. This suppression, however, is hard to fully gauge. At this point, it's the overall sentiment of agents that this is the case. With the spring market now in full swing, inventory is about to hit the highest level of the year shortly.

SUPPLY AND INVENTORY ACCUMULATION: This past month has seen a large jump in the number of homes on the market, which was to be expected, which helped bring levels up much closer to the 5 year average and last years numbers. This is going to help to get more homes sold as buyers will have slightly more (emphasis on slightly) to choose from.
Accordingly, inventory accumulation has jump up further. The important thing to notice is that this number is increasing faster than last year. In 2018 we went from 3.1 months to 3.8 in April. This year we started at 3.5 and have risen to 4.7 and is now above the 5 year average. What does this mean? On face value, it seems like the market is slowing down and while that is true in some sense, it doesn't feel that way, as Days on Market continue to be low.

SOLD TO LIST RATIO: In March, sellers raked in a 99.2% Sold To List Price Ratio. That's truly incredible, especially when you factor in that this is the entirety of Chester County. Last year in June, on average, sellers received 100% of asking price, so it appears that we are headed in that same direction. It's a great time to be a seller!

CONCLUSION: Overall, the market continues at a quick pace with multiple offers and buyers needing to offer at or over asking price being the norm. HOWEVER, with the supply and inventory accumulation creeping up, it is showing cracks. For sellers, it continues to be critical that you price your home correctly – not too high losing critical market time and not too low to leave money on the table.
For buyers, not much has changed. You must be super competitive and fully understand what the market conditions are so that you don't waste your time. Make sure that you have the most experienced agent by your side when wading into these waters. Their knowledge, tricks and strategies will be crucial.

And if you have to sell and buy at the same time, it's even more critical to have the best, most experienced agent by your side.

We would LOVE to be the agent team you would like to interview for the job to help you buy or sell a home. Please give us a call at 484-696-4833.