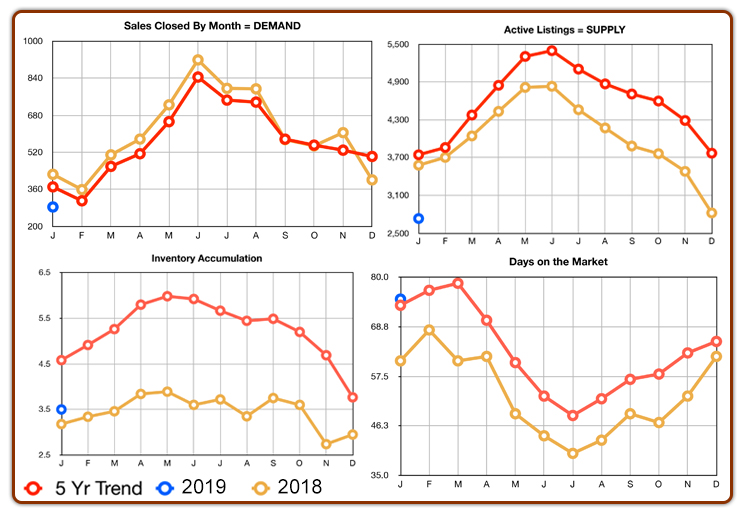 Soft Serve…
2019 got off to a bit of a slow start, however, now that the Superbowl is over, homes are starting to pop up for sale and things are starting to move. With that said, the market is still show up softer than it was last year. Let's look at the details…

DEMAND: Demand was down almost 34% year over year with closed sales at 284 vs 425 last year, this according to the new MLS system, BRIGHT MLS. It was an unusually slow December and part of that lack of activity could be the lack of "A+" inventory and it's most likely that it's due also in part to a slow down in the market.

SUPPLY AND INVENTORY ACCUMULATION: Overall End of Month inventory was down 24% over January of last year, which is a 10% difference from Demand. This lines up with the increase in overall inventory accumulation, which is up 10% over last year.

DAYS ON THE MARKET: Days on market are also up about 23% over last year. This measures the number of days it takes for a home to go under contract and last January it took 61 days and this year it took 75.
RATES: Rates have taken a dip in the last month or so with the rates coming in as low as 4.3%, however they won't likely stay there. The "new norm" is going to be around 4.75%-5%.

CONCLUSION: While the market is expected to be softer than it was the last 2 years, there are still plenty of places that will experience multiple offers. The difference this year is that if the home is not priced well relative to it's condition, it will not attract multiple offers. And, depending on how much the market softens, Sellers are going to have to watch pricing VERY CAREFULLY. If the area they are in get's hit harder, quicker, they will need to make more serious and drastic price adjustments to avoid following the market down and losing much more money than needed.

Buyers will need to have a professional by their side to make sure they fully understand the market conditions they are in, when it comes to the specific home and area they are looking for. The softening market will have an effect on pricing, however, not all sellers are going to be aware of this.

In addition, the inventory will not be up enough for buyers to have a lot to choose from. So when a home comes up that is a great match, yet the price is just a little over what they might otherwise pay, they will need to weigh out how important it is to have a home that meets all of their needs. They may end up having to pay a little more for the home, assuming the seller isn't willing to move on price.
In the end, an appraiser is going to have a say on what the home is worth and that will be the ultimate word on value. However it's not advisable for consumers to bet on that coming in, in their favor.
More than ever, in a shifting market, it's important that anyone looking to buy or sell a house hire a professional they fully trust and one that has enough experience in the market of the moment that they get the advice and insight they need. With rates still historically low, it's a fantastic time to buy and home values are at some of the highest they've ever been. It's a great time to be buying or selling real estate.
Our team helped more than 170 families do just that last year and it's our obsession to help take the stress and difficulty out of the process and create an experience for our clients that allows them to fully enjoy making a move. If that's the experience and professionalism you are looking for in the agent you hire, please call us to interview us for the job. You can reach us at 484-696-4833