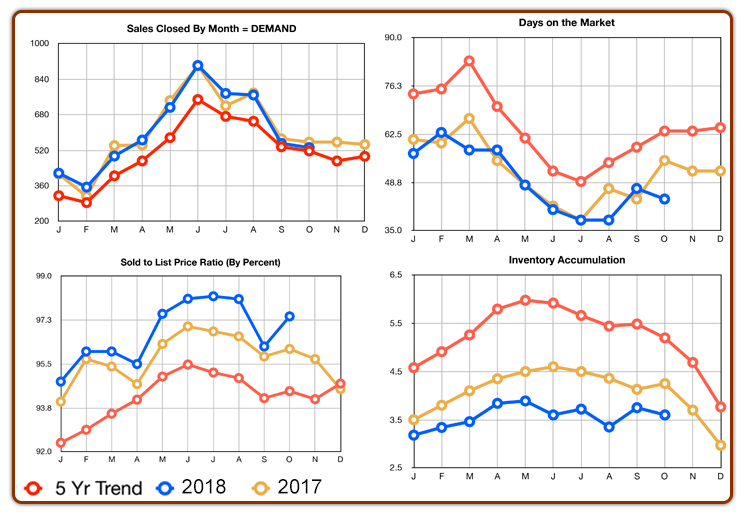 New Year, Different Market
The signs that the market is shifting and softening grow stronger and more apparent each month. September was the first month we really felt the shift and now it is showing up in most of the stats. This will effect how sellers and buyers approach the market. To see exactly how, let's look at the details.


DEMAND: December sales were down a whopping 20% over the same month last year. That dent puts the annual totals for 2018 just about even with 2017, with only a 1/2 a percent above last year, or only 48 sales more than last year. This is another strong sign that our market has and is shifting, starting to soften up. This also shows up in the inventory accumulation and Days on Market


SUPPLY AND INVENTORY ACCUMULATION: Inventory accumulation went up by 8% which, for December hasn't been seen in the last 8 years. While the inventory accumulation is still ridiculously low for Chester county (ending at 2.95 months), the fact that it went up in December strongly indicates the shift to a softer market.


DAYS ON MARKET (DOM): This is a stat that we do not cover every month, however with the shifting market, it's important to look at. This stat tells us how many days the average home is on the market before it goes under contract. DOM for December of 2018 saw a 13% increase over last year and was actually much closer to the 5 year average than last year. Of all the stats, this one is the most powerful indicator that a market is shifting.

SOLD TO LIST RATIO: Another indicator that is showing signs of the shift – the amount sellers received compared to their asking price was down compared to last year. Not by lot however this is a trailing indicator to watch in the next few months as Days on Market creep up and the Inventory accumulates.

RATES: While rates are not a huge factor right now, they could be and are having a small effect on how buyers look at the market. They actually had a decent dip in the last few weeks which isn't expected to stick around. 30 Year fixed, conventional is between 4.5%-4.75% at the moment, yet 5% will be the norm. If they continue to go up, however, they will end up being a significant factor in what buyers can afford.

CONCLUSION:
We are about 45 days until we see the spring market start to gain steam and, based on how 2018 wrapped up in the 4th quarter, we are not expecting to see the crazy seller's market we saw last year. Lets rap a minute what this means for Sellers and Buyers…


WHAT THIS MEANS FOR SELLERS – While we won't know for sure until the market warms up, we are betting we will not see anywhere near the amount of multiple offers that we saw last year. In certain pockets of West Chester, Downingtown, Malvern and Phoenxiville you may see some, however the majority of the market won't be seeing multiple offers.
In addition, while homes will likely still sell relatively quickly, it won't be in days or even hours, but more like weeks and in some area's and price ranges- Months. This will affect pricing most of all. In a shifting market, pricing is the most critical concern for sellers. If you price your home above the market, you could end up chasing the price down for months and missing out on significant money.
This is why having an agent who knows the market of the moment and has the experience, knowledge and confidence to tell you the accurate truth is so very critical. They need to be able to tell you the truth about pricing, even if you, as the seller, don't really want to hear it. And I have hardly ever met someone selling their house who was excited about pricing their home lower than they intended. Yet, in this market, it's going to be critical.

WHAT THIS MEANS FOR BUYERS – Rates and pricing, these are the 2 most critical factors for buyers. For every .5% the rate goes up, it increases a payment by between $75 – $100 per month or $900 -$1200 per year. To say it another way, if a home was priced at $250,000 and the rates went up 0.5%, they'd have to drop the price to around $242,500 for the payment to be the same.
By pricing, we are referring to the propensity for buyers to go overboard when figuring out where to price an offer. Due to fear of the market headed down, they tend to go beyond what is needed and thereby self sabotaging what could have been a good negotiation.
For example, let's say a home is priced at $350,000 and has been on the market 30 days, which might be a long time compared to what the market was doing. Let's say the home is slightly overpriced and was arguably worth $340k and yet because of the direction of the market, the buyers go too far and ask for the home at $320k, when, if they had come in at $335k or even $330k depending on the situation, they could have gotten a great deal. Instead, the low offer causes the seller to dig their heals in, perceive the buyer to not be serious or at least not reasonable and the negotiations break down.
In order to avoid this, again, they must have professional and expert on their side that they will trust and listen to. The real estate agent is critical in helping them understand what the true nature of the market is.

With all that said, it is still a great time to be moving, yet everyone's situation is different and needs to be looked at as such. The Chris & Caleb Real Estate Team exists to Dramatically Impact Lives through Real Estate. We do this by giving our clients the clear information they need to make the best decision for them and their families and taking the stress out of a potentially stressful process and providing world class service.
If you are considering a move this year, please call us right away at 484-696-4833. We would be thrilled to interview for the opportunity to represent you!

PS – Recently, our MLS, aka Multiple Listing Service, changed for our area. They are tabulating some of the data that we've been compiling for over 10 years in a different manor than before. This will show up in some of the specific numbers, however, this will not effect the integrity of the data. We are painstakingly going through the last 10 years of data and updating it all using their new information. Just wanted y'all to know.