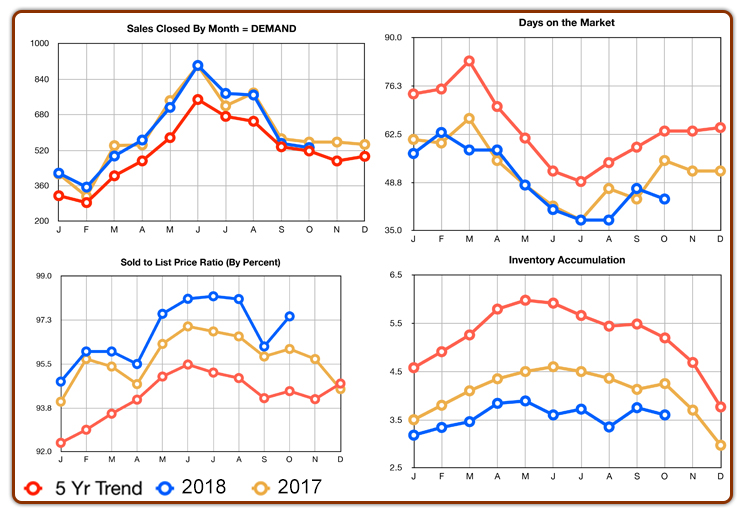 IT'S HERE!!
The shift appears to have arrived! Why do we say that and what does that mean for anyone reading this? Overall it's great news for buyers, not so great for sellers. For everyone, it means that home value increases will slow down if not halt altogether. Let's look at why we are saying that. . .
DEMAND
: Demand/closed sales dropped in September, however, that is par for the course in September. That reflects what buyers were doing in July. It's very likely we will start to see this number underperforming last year, and possibly the 5-year trend. Read on to hear why…
SOLD TO LIST RATIO
: This dropped significantly. The last 4 months, we've seen this number be at levels that, frankly, made us uncomfortable. We saw that number drop 2 percentage points. This time of year, we usually do see a drop, however not 2%. That is a significant indicator that things are slowing up more than usual. And again, remember, this is a reflection of what occurred back in July. There is more coming.
This means that buyers were able to negotiate better deals somewhere around July and that they didn't have nearly as much competition when the put in an offer hence the sellers giving up more to them. It's a great sign for buyers, not quite so much for sellers.
DAYS ON MARKET:
Welcome back this particular statistic! It's been away for a while because it wasn't telling us a whole lot, however, with the 2% drop in the List to Sales ratio, it's important to look at what this number is doing. It's up. And while this seasonally just about in line, it's a number that, should the market continue to slow, will start to creep up, along with supply and inventory accumulation. So we've added it back in.
INVENTORY ACCUMULATION:
Another sign that a shift is likely upon us is the inventory accumulation. Normally this time of the year, the level of accumulation drops. It went up last month. And it very rarely does that. This is another number to watch out for. It means that the overall number of homes are increasing relative to the demand. Overall, there are more homes to buy this month than the month before. It's the law of supply and demand.
CONCLUSION:
There are now strong signs for a shift. There also has been a lot of talk among top agents in our area about feeling it. They are saying that September has been a lot slower than last year and that's showing. So what does that mean for you?
If you are selling -You MUST be extremely clear on pricing. If you are not 100% clear on where you need to be priced and you price above the market, you will end up chasing the market down.
As an example, let's say your home would sell today for $350,000. However, 3 months ago, it would have been easy to get $370,000 and that's where you price it. Then, a month later, the market has slowed more, prices have dropped further and now your home might be worth $345,000. But you only drop your price to $360,000.
Then another month goes by and maybe you drop it to $350,000, feeling frustrated because you thought your home was worth $370,000, which it was, 6 months ago. Now it will fetch $340,000 and buyers are seeing the 60+ days on market and think they can get "a good deal". You are chasing a soccer ball downhill. It's EXTREMELY IMPORTANT to have the right advice.
Real estate sales agents who are selling multiple homes per month are doing enough business that they might see what the "market of the moment" is. They are seeing the details and shifts much farther in advance than someone selling 1 or less per month. It's just not enough activity to see it.
If you are buying, this is a great sign. It means that you will have less competition and that multiple offer situations are much less likely. It also means that you may have more to choose from eventually. This shift puts more power back toward the buyer and away from the seller. It also means that you can get a better deal, as long as interest rates don't go up too much. However, you must not get overconfident with that "power" as being too aggressive on offers can cause you to lose out on some great opportunities.
In the end, it remains critical to have a real expert and professional on your side. When you are about 6 months out from wanting to move, please CALL US and we can help you get prepared. You can always reach us at 484-696-4833.