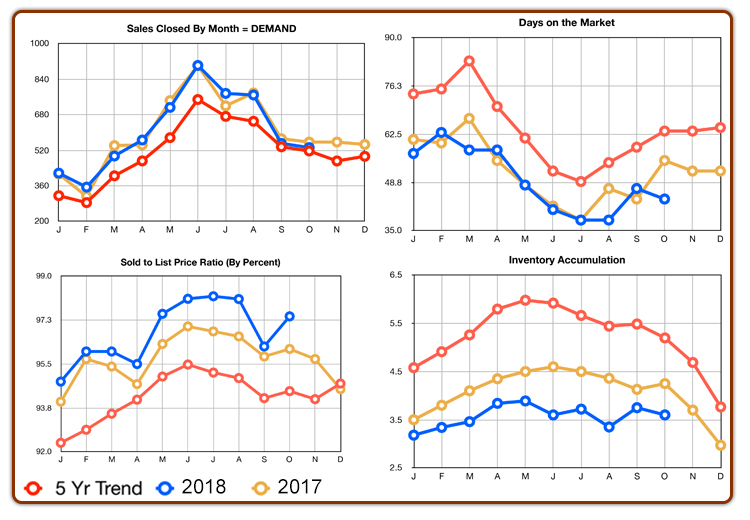 THE SHELVES ARE BARE
Extremely low inventory leads to great opportunities for sellers and rough conditions for buyers. If you are considering wading into the current real estate "waters", make sure you have the best and right info to make the best call for you. Let's look at what May 2018 brought us…
DEMAND
: Demand was down from May of last year, about 9%. It seems that this is mostly due to the lack of inventory. Our Buyers Specialists have a large number of clients who are just waiting for the right home to come on the market. When it does, there is usually an overload of offers and it's not uncommon to see homes sell for $20-$30k over asking price. We've heard stories of homes with as many as 21 offers on the table.
SUPPLY AND INVENTORY ACCUMULATION
: Supply and Inventory Accumulation continue to trend about 13% below last year which is causing the issue mentioned above – a huge bottleneck resulting in less sold homes. There are simply not enough homes on the market to keep up with demand. Which is driving the next stat…
SOLD TO LIST RATIO:
This past month we saw an average List To Sale ratio of 97.5%. It's the highest ratio I could find going back over 10 years. What does this mean? It's already been stated – that there are not enough homes for sale to keep up with the demand. It's a GREAT time to be selling your home.
CONCLUSION:
The market is like a dam that you KNOW is going to break, but it just keeps holding on. We felt confident that the market would have softened by now, given that we are almost 13 years into a typically 7 year cycle.
The last correction was so dramatic that it seems to have caused a ripple effect in which the average person/family is staying in their home longer than usual either out of necessity or fatigue/preference. Luckily, one measure the government has taken in regards to appraisals, seems to have held off a major upswing in values, which is partly what caused the crash in 2008. The likely means that this current upswing is more sustainable and that the correction won't be as dramatic. At least we can hope. These facts have different effects on buyers and Sellers.
For sellers, you have to make sure you are priced
just right.
Too high and you won't get the offers you want and too low and you might leave some money on the table. You also need to know what the micro market is for your home. A Micro market is basically the homes you compete with most directly, either in a neighborhood or tight geographic area like a township or group of roads.
For example, if there are only 2 homes on the market today that you would directly compete with and then 2 weeks later there are 6, then the inventory accumulation has gone up dramatically and that will affect your pricing strategy. It's just as important as ever to have an agent by your side that you not only trust, but also does enough business that they can truly advise you given the speed at which the market is moving.
For buyers, make sure you have a VERY experienced agent by your side. And what experienced means is someone who has done a lot of deals in the last 3-6 months. We won't sugar coat things – it's a very hard market for buyers, assuming they are looking in areas that are moving quickly, which is 75% of Chester County. Your agent is crucial in providing you the perspective you need to successfully acquire the home you really want.
Also, we strongly encourage you to consider whether you must buy now or if you can wait. Of course, we'd love your business however, it may be in your best interest to wait to buy as we believe we may be experiencing the top of the market. And what that means for buyers is that you are buying at prices that are high and if you have to sell your home before the next peak, you may not get what you paid for it. It's something to consider.
To interview our team or one of our Specialists, give us a call at 484-969-4833 today.