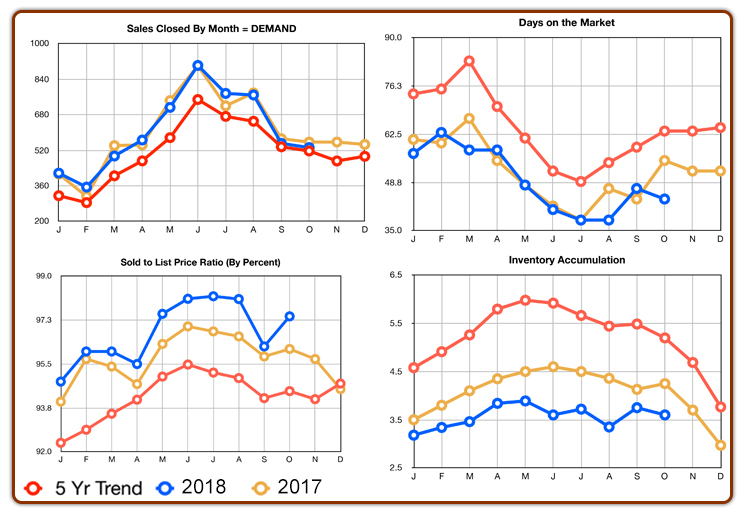 Fewer and fewer….


INTRO: Inventory continues to creep lower and lower, with the number of homes listed last month being well below last year. Is this strong
sellers
market ever going to ease up? Let's look at the details and see what it means.
DEMAND: Demand/homes that settled were down slightly
year
over year, from 541
march
2017 to 477. Keep in mind it typically takes a home 45-60 days to settle once it goes under contract. So this was a reflection of what happened as far back as December and January. With all that being said, it was a 10% decrease from last year, AND we believe it's due to the lack of inventory.
SUPPLY AND INVENTORY ACCUMULATION: The number of homes listed in March of 2018 we roughly 20% less than the number of homes listed in March of 2017. In addition, the overall number of homes available for sale is down almost 15%. The reason? In our opinion it's due to the drastic cycle we experienced from 2008-2012. Prices still have not quite caught up to the levels we saw at the height of the market around 2005-2007. Therefore it's taking people longer to see prices regroup enough to make a move a reality. In addition, there just isn't very much new construction left in Chester
county
. Developers are running into a lack of open space and townships being willing to let them develop land in a way that is financially viable.
SOLD TO LIST RATIO: The ratio that tells us how much of asking price a seller will likely get for their home remains the same as last month, holding steady at 96%. Please understand that this is a VERY HIGH ratio and indicates that a high number of homes for sale are getting very close to asking price. We expect this ratio to climb slightly in May and June.
CONCLUSION: It's hard to believe the levels of inventory continue to shrink. We thought that by now the market would have softened up and caused the market to shift back to more of a balanced market, if not closer to a buyers market. At this point, it's very hard to say when that might happen. Right now it's clear that if you are considering selling your home, you absolutely should give us a call and see what you might get for it. It's likely the value is at an
all time
high and you could sell it extremely quickly.
On the flip side, those that are buying are having a tough time finding multiple options. And, when they do find something, they need to put their highest and best offer forward because it is likely to be a multiple offer situation.
At the end of the day, it's incredibly important to have a very experienced agent next to you who knows what the market is doing and what will help you to have the biggest win possible. And of course, we feel that we are absolutely qualified for the job. So give us a call at 484-696-4833 and we'd love to get you the information you need to make the very best decision for you and your family.