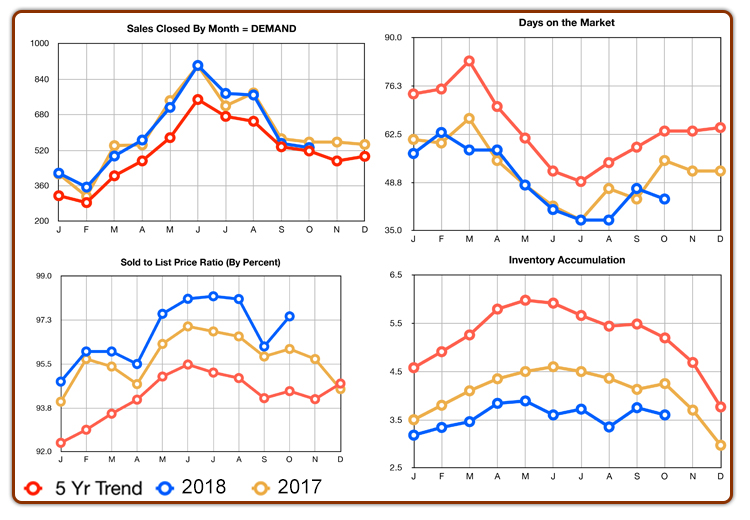 UN-BELIEVE-ABLE
We are seeing List to Sale Price Ratio's we've never thought we'd see and combine that with some of the lowest inventory we've seen, it means the market can be a very dicey place to play. Let's look at the details. . .




DEMAND

: Closed Sales continue to keep up with last years pace, despite lower inventory/less to choose from. We are at a point in the year where the pace of homes coming on the market is stalls for a few months before we hit September, mostly due to vacation season. Overall, we've seen the peak of the season with June, and the historical data shows us that from here to the end of the year, demand will likely slow down each month.




SUPPLY AND INVENTORY ACCUMULATION:

Supply has been just about flat the last few months, compared to last year which continued to creep up. In fact, the number of homes listed

were

off as much as 10%. This has caused the inventory accumulation number to drop to about 3.5 months of inventory, which is a whole month less than this time last year. That's over a 25% decrease over last year. What does that mean… We will get to that in a minute.




SOLD TO LIST RATIO:

ARE YOU FREAKIN' KIDDING?!?! No…

No

I am not. It's true that in June, sellers received, on average, 98% of asking price. Honestly, I never ever thought we'd see that number. It's one thing to see that in a neighborhood or even a school district but over the entire county? That's incredible and is a direct response to the lack of inventory.




CONCLUSION

: Things sure are interesting… Seeing 98% of asking price in the stats was honestly surprising. As mentioned, it's a direct response to the lack of inventory. This means that home values continue to head up (wanna check yours? Go to

http://www.thechrisandcalebteam.com/what-is-my-home-worth

) and don't seem to be slowing down. For those selling a house, it's a dream come true.




It also means that the conditions are very difficult for Buyers. Buyers have very little negotiating power. Instead of trying to get a great price, they are simply doing all the can to win the multiple offer situations they find themselves in. In some cases we see people waiving inspections (We DO NOT recommend this!) and paying, sometimes, as much as $40-$50k over asking price.




One threat to this market

are

the interest rates for loans. They are now up around the 5% with no sign of stopping there in their upward trend. Ever 1/4 of a point they go up adds real dollars to buyers mortgages and eventually, it will cool off the market. Perhaps that's what needs to happen?




Something will change at some point. It is inevitable. Real estate markets are cyclical and it's just a matter of time. So for those thinking of selling, call us right away. We can help you get clarity on what it looks like for you to sell and what you will walk away with. For buyers, call us ASAP as well, as it may not be the best time for you to

buy,

if you have a choice. If you are selling AND buying, you definitely need to call us as it's a very complicated time for those doing that.




You can always reach us anytime at 484-696-4833.