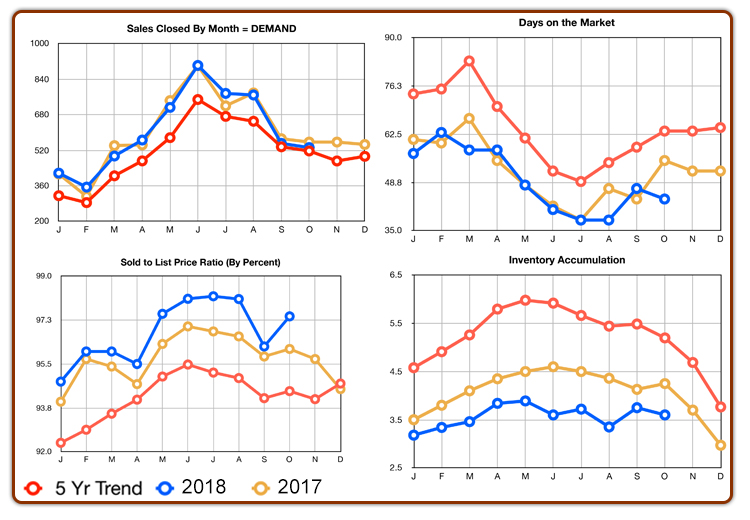 Piranhas are in the water!
At least that's how it continues to feel sometimes. The Chester County real estate market is definitely a jungle and all parties MUST know what they are walking into or there can be some real difficulties ahead. Let's look at the facts.
DEMAND: Demand is up slightly over last year. Couple this with 8% less homes being listed than last year and it feels significantly more squeezed for buyers than last year. The effect this has on average sale price is significant. The average overall sale price in Chester County is up 5% over what it was last year and this number is on course for us to see a 12% increase over the average sale price compared to just 5 years ago!
SUPPLY AND INVENTORY ACCUMULATION: Number of homes listed is down, supply continues to be about 15% below last year and yet inventory accumulation is up, albeit slightly, over last month and still down 18% over last year.
SOLD TO LIST RATIO: This one is a little concerning in that, for a second month, it's extremely high. That's great news for sellers, however, when we see "new highs" in this category it could indicate a coming shift. Again, only time will tell.
CONCLUSION: Our team has felt like the activity has not slowed as much as usual and the stats show that with a higher demand than usual. The numbers are still showing that the current conditions are not going to change anytime soon and the only indicator that anything may change is the list to sale price ratio.
The lack of supply is driving prices up and making it very difficult on Buyers and even more potentially difficult on folks who are both selling and buying. Sellers can also find this type of market stressful because of the frenzy of activity in that, in some cases, their homes sell so quickly they have hard time dealing with the pace. As far as home values go, this is the "perfect storm" for values to head up which we discussed earlier in this article.
Overall, as we've been saying, if you are entering this real estate market, you need an expert by your side. The risk on the buying side is that you will either miss out on dream house after dream house or you could end up paying way too much for a home. On the Seller side, you could easily leave a lot of money on the table. For both sides, the market is stressful and a great agent is going to be your buffer for that stress and help you to focus on the excitement and enjoyment of this amazing experience.
That is our goal – that each client we work with, truly enjoys the process and that we filter out all the stress, as much as possible, for them. The real estate just about always has bumps in it. Our passion is to help minimize those bumps and bring perspective and solutions that will help a client relax and make great decisions for them and their families.
If you would like to speak with us about buying, selling or investing in real estate, call us now at 484-995-9318. We'd LOVE to help you!