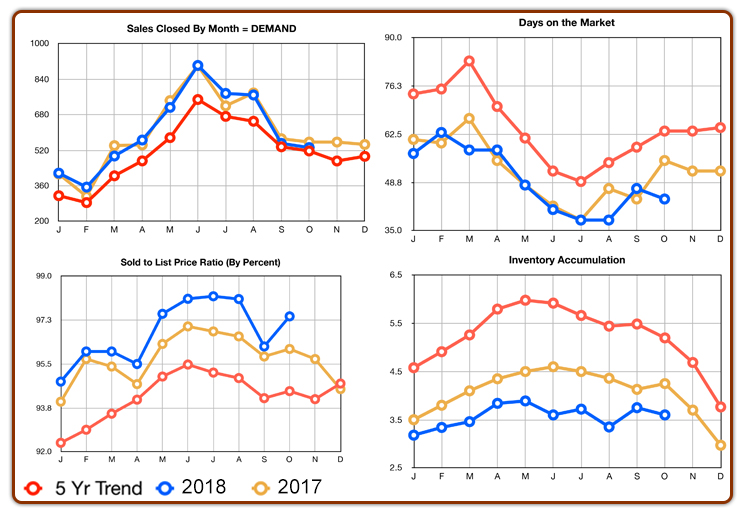 GROUNDHOG DAY
Ever feel like you are in the movie "Groundhog Day"? This report may make you feel that way. The market continues on the same low inventory path it's been on for over 2 years. The big question is how long is this going to continue to last. That's anyone's guess at this point. Let's look at the details and what it means for those considering a move.

DEMAND: Same song, new month. The number of closed sales in January echoed January of 2017, which is slightly above the 5 year average. Not a whole lot to report on this one.

SUPPLY AND INVENTORY ACCUMULATION: Both supply and inventory accumulation are below last year, which means there are even fewer homes than last year to look at, though not significantly.

SOLD TO LIST RATIO: As expected with a low inventory situation, sellers received even more of their asking price than they did last year by around a half a percent.

CONCLUSION: So what does all this mean? Honestly, this feels like a broken record because it's the same that it's been for the last year, which is that there isn't much to choose from. The sellers have the advantage and buyers must act very quickly and write very strong offers.

Who your agent is matters greatly on both sides. For the sellers, you don't want to leave any money on the table and you don't want to price it too high, causing your days on market to elevate and hurt your ability to get top dollar. For Buyers, without strong counsel you can trust, you will miss out on home, after home, after home. You need an agent who is dedicated and aggressive in finding the right home for you and getting you out there asap.

This is the market of the moment. AND this review is for the entirety of Chester County. If you are considering buying or selling, please call us immediately so that we can look at the micro market that your home is in, or that you want to buy in, so that you are fully equipped and educated to make the best move for you and your family. You can reach us at 484-696-4833.