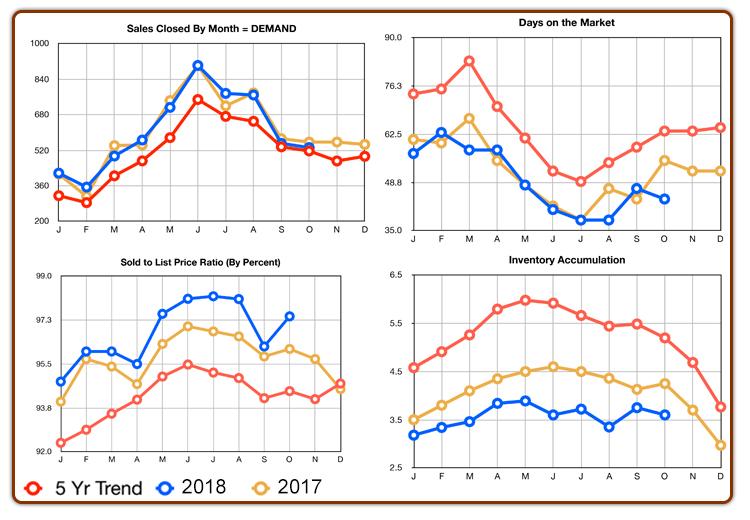 Market Continues to hold steady.
The real estate market in the Chester County area continues to hold steady as we head into the spring market. It looks like this spring will see rising prices, low inventory (again) and lots of multiple offers. Let's look at the details…
DEMAND
: Demand continues to hold steady. Mimicking last year. For sellers, this is great, they hold the advantage. For Buyers, it means there isn't much to choose from and if buying a home in a specific time frame is an important factor, they may need to adjust their criteria to fit what the market is offering.
SUPPLY AND INVENTORY ACCUMULATION:
Due to less inventory coming on the market, we are seeing lower numbers and accumulation over last year. Again, this will affect buyers and sellers differently.
SOLD TO LIST RATIO
: Mostly due to lower supply, the ratio is showing up above what it was last year, which means sellers are getting slightly more than they were last year and buyers are forced to pay a bit more.
CONCLUSION:
What can we say is for certain? Real estate markets are cyclical – meaning they go up and down. Historically that has been in 7 year spans, meaning from peak to peak it's usually around 7 years. 2008 came along and changed all that. It's now been about 12-13 years since our last peak (arguably 2005 in Chester Co.). Why do I mention this? Many people ask us about "timing" the market, meaning they want to sell when values are at the highest and buy at the lowest.
However, reality is very different. Most people move out of a need that arises, not opportunity. Meaning, what drives a move is more life changes such as a growing family, job changes, kids going to college, etc, not whether it's the best time, market wise, to make that move. And at the end of the day, if someone is both selling and buying at the same time, then it honestly doesn't matter what the market is doing as far as getting "a good deal" or not. If the market is high, they will be able to sell high and on the buy side, they will be buying high. If the market is lower, then they are selling and buying lower.
The biggest factor is if someone is doing only one of those. If it's a first home purchase, then one might not want to purchase now, arguably at the peak of the market. However, if someone wants to sell, and wait to buy, then it might make sense to do that.
If both buying and selling need to happen, the best one can do is be fully aware of the market conditions they are entering into and have an advocate on their side that is truly an expert that gave give an up to date and accurate assessment and help put a solid plan of attack together. On the selling side, it's likely your home will sell very quickly in most areas of Chester county, when the price and condition are right. On the buying side, it's almost certain that you will be facing fierce competition and multiple offers.
Historically, one of the main factors that indicate that the market is shifting is days on market. Right now they are hovering around 60 days. When the market shifted in 2007-2008, DOM started to rise above 70 days. This will be a number we will keep a close eye on.
If expertise and a high level of service is what you are looking for from your real estate professional, then please give us a call. We'd be honored to interview for the job to be your real estate professionals of choice. Give us a call at 484-696-4833.