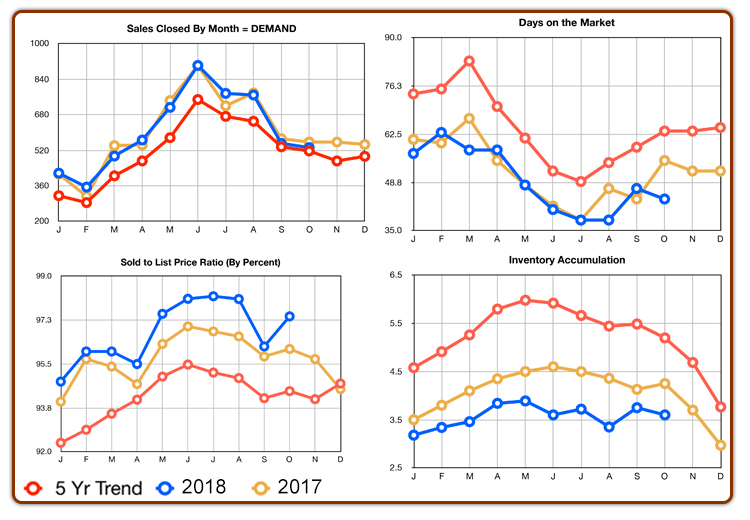 High demand is good, right?
The good news continues to be that home values are headed up. The news that can be tough to deal with is that it is a VERY competitive market for buyers. This all underscores the need to be clear on what type of market you are entering into as a buyer or seller. Let's look at the details.




DEMAND

: Demand remains steady with numbers slightly above last years. As mentioned last month, when you couple this with 8% fewer homes being listed than last year and it feels significantly more squeezed for buyers than last year. The effect on home values and the speed at which home sell is clearly felt by all involved, buyers, sellers and agents.




SUPPLY AND INVENTORY ACCUMULATION

: With demand up over last year and a slightly lower number of homes being listed, we continue to see a significant gap between what was available last year and this year. There remains between at 15%-17% gap. This is what is causing homes to sell so quickly overall and for so many offers being made on the top "A" list homes.




SOLD TO LIST RATIO:

As a result of the inventory squeeze, for the second month in a row, we are seeing an average list to sale ratio of 98% which is unprecedented. Sellers are getting more for their homes than in the last 15 or so years. This tells us that the competition for home is extremely fierce.





CONCLUSION

: The market is still a rough place to do business in. It's VERY fast pace and fairly ruthless, especially for buyers and there doesn't seem to be an end in sight. The only sign we are seeing of a shift or slow down is in the higher price ranges ($600k+) where it's taking slightly longer to sell.




Overall, as we've been saying, if you are entering this real estate market, you need an expert by your side. The risk on the buying side is that you will either miss out on

dream

house after dream house or you could end up paying way too much for a home. On the Seller side, you could easily leave a lot of money on the table. For both sides, the market is stressful and a great agent is going to be your buffer for that stress and help you to focus on the excitement and enjoyment of this amazing experience.




That is our goal – that each client we work with, truly enjoys the process and that we filter out all the stress, as much as possible, for them. The real estate just about always has bumps in it. Our passion is to help minimize those bumps and bring perspective and solutions that will help a client relax and make great decisions for them and their families.




If you would like to speak with us about buying, selling or investing in real estate, call us now at

484-995-9318.

We'd LOVE to help you!