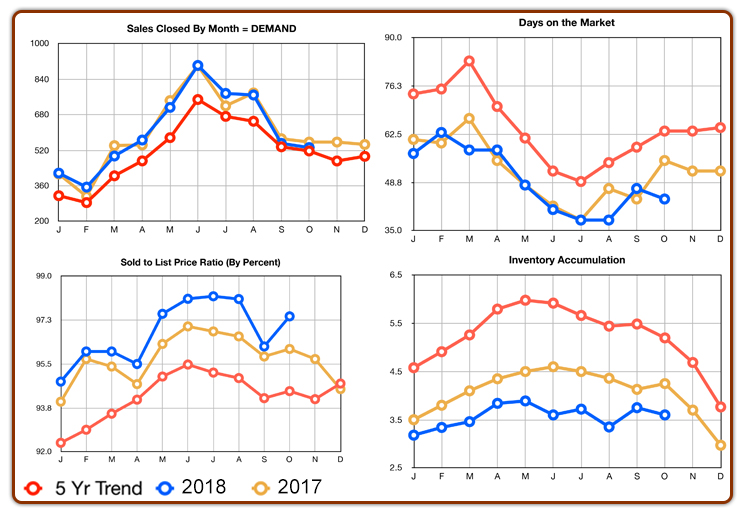 The New Normal
The market continues to have a shortage of homes for sale and multiple offers are getting worse, while home prices increase along with rates. It's great for sellers, yet not great for buyers. Let's look at the details.




DEMAND

: Nothing unique happening in demand. The demand continues to

out pace

the average of the last 5 years by roughly 18%. This tells us that the market continues to be a

sellers

market and that home values are headed up.




SUPPLY AND INVENTORY ACCUMULATION:

Supply and inventory accumulation continue to be below last years numbers and well off the

5 year

trend, roughly 30%! It puts us at just under 4 months of inventory. 6 months is a balanced market. I know I am a broken record saying this, but Chester county needs more homes to be available for sale!




SOLD TO LIST RATIO

: This ratio still remains between 95%-96%. Likely, right now, sellers are getting as much, on average, as 97% which is what was happening when homes were going under contract in May of 2017.




Again, this is very good for sellers. Not great for buyers, as many are facing multiple offer situations with 10+ offers and homes selling for $20k over asking price. This isn't happening

every where

, but it is fairly common. Buyers need to be fully prepared.




RATES

: Currently rates are 4.5%-4.75% on average. They've been stable for a little while but will be headed up as the fed continues to hike rates. Money is getting expensive for central banks and that will be reflected in the rates. So not only are houses getting more expensive, rates are going up as well. Rates are the "X" factor when it comes to buying real estate, as even a .25% increase can change a payment by a few hundred dollars.




C

ONCLUSION:

We are now in our 3rd year of there being low inventory. This seems to be the new norm until it isn't. And at some point, it won't be as real estate markets are always cyclical. However, for now, it remains to be an amazing time to sell and a very tough time to buy. As always, we stress the need for consumers to seek out the BEST professional to be by their side, should they enter this

market.

A professional will be very active in the market, selling a minimum of 2 homes per month and will have an outstanding track record and reviews.




If you are considering buying or selling, we'd love the opportunity to interview for the opportunity to help you. You can go online on Zillow (

https://www.zillow.com/profile/ChrisAndCaleb/

) and Facebook (

https://www.facebook.com/TheChrisAndCalebTeam/

) for our reviews and then give us a call at 484-696-4833 and set up an appointment.