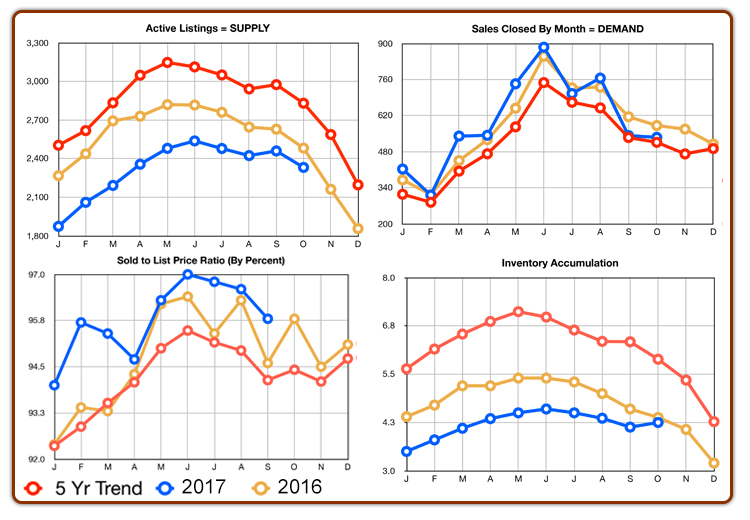 THIS MAKES BUYERS HAPPY
The market continues to indicate that the market next year will not be as strong as this year, though it's not a dramatic show of hand. The numbers are still strong overall, it's just the trend that indicates the softening. Sellers are still getting phenomenal numbers for their home yet buyers don't have the crazy conditions to deal with they did 9 months ago. Let's look at the details…
DEMAND
: For the 3rd month in a row, demand continues to underperform compared to last year. Overall, more homes will sell in 2017 than 2016, however, the last 3 months are trending down.
SUPPLY AND INVENTORY ACCUMULATION
: These numbers continue to be very close to last years numbers, which are trending upward, though not sharply. These indicators continue to be very important factors to consider and watch, to see which way the market is going. Over the last three months, they appear to indicate a softening in the market, however, this may change come February.
SOLD TO LIST RATIO
: It's looking like sellers will get an average of 96% of their asking price in 2017, which is a whole percentage point above last year and the highest in over a decade. Clearly, this year has been the best year in a long time for one to sell their home in Chester County.
CONCLUSION
: 2017 will wrap up as one of the best years for selling your home in Chester County in a long time. It will also be one where buyers had the most difficulty. However, that's in the past and we need to look to see what this means for those looking to make a move in the next 3-9 months.
WHAT DOES THIS MEAN FOR SELLERS:
It is still a historically high time to sell your home. While the market has seasonally and otherwise cooled, sellers are still getting great prices for their homes. However, not all micro markets are hot. You must have a very active, recently experienced agent who knows the market of the moment and what the trends are. It literally can cost you 10's of thousands of dollars to have bad info.
WHAT DOES THIS MEAN FOR BUYERS:
The overall market is still very competitive however it does look as though it is cooling. Buyers are no longer currently facing certain multiple offer situation. It also means that you can't go in unreasonably low. That can cost you dearly. An active REALTOR that knows the market of the moment can help guide you on what to expect and what strategies work best.
Here's the great news – no matter what 2018 bring, we will be here to lend a hand however you need it. If you are considering a move in 2018, please call us. We love to help, we never pressure and this is our passion.
Give us a call at 484-696-4833 to talk to one of our experts today.