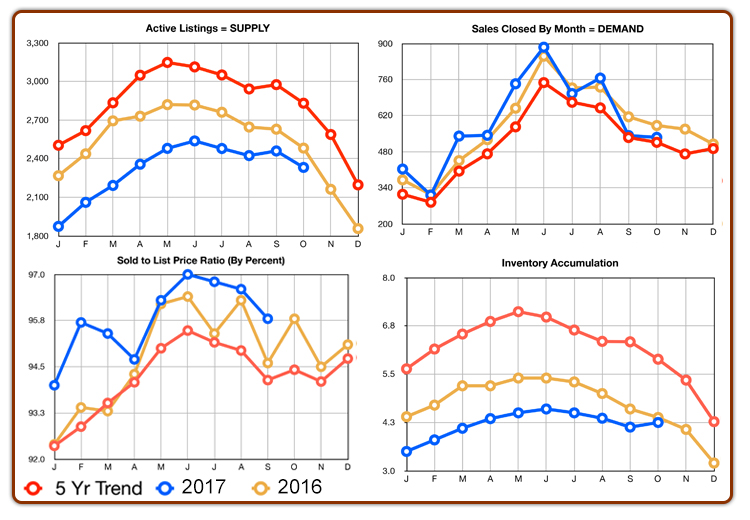 2017 – the best or the worst??
2017 is a wrap. It definitely was an interesting year for real estate. It was very active and extremely competitive. Homes sold very quickly with a multitude of offers and frustrated many buyers. Was it a great year for real estate or not so great? Let's look at the details….
DEMAND
: Closed Sales in December were up slightly over the same month last year, however not enough to mean anything significant and were very close to what the 5-year trend has been, (546 in 2017 vs 492 avg last 5 years). Overall in 2017, closed sales were only up 4% over last year. However, it was the most homes we've seen sold since the last peak, which was in 2004. 7525 homes were sold that year and that was with the "No Doc" loan available. To be honest, we have a hard time believing that this level of activity is sustainable.
SUPPLY AND INVENTORY ACCUMULATION:
Both the number of homes available to purchase and the inventory accumulation are at all time lows. At the moment of writing this, there are only 1,780 homes for sale. It's been over 12 years since we've seen numbers that low. Simply put, it's a GREAT time to put a home on the market.
What's interesting is that the number of homes that were listed this past year was up 4%, just like the number of homes that sold. So in a way, the market, when you look at annual numbers was flat compared to last year, though there was slightly more activity than last year.
SOLD TO LIST RATIO:
The ratio for December was slightly higher than last year. Overall for 2017, sellers received roughly 1% more for their homes than they did the year before when comparing this ratio, (95.72% vs 94.81%)
In addition, homes sold about 20% faster, or 10 days faster in 2017 than in 2016. This is the fastest since 2006.
CONCLUSION:
For home values, this year was great. Values increased overall. However, for buyers, it was a rough year. We are still neck deep in a seller's market, given the inventory accumulation. We have some way to go until we see that shift. Overall, we still believe the market is shifting to a softer market. It seems that the last presidential election and the stock market's reaction may have delayed the shift slightly.
WHAT DOES THIS MEAN FOR SELLERS: The sun is still shining brightly on sellers. In
most
places, sellers still have the upper hand and homes are selling very quickly. At this very moment, there is very little competition for homes on the market and an excellent time, for most sellers, to list their home for sale.
WHAT DOES THIS MEAN FOR BUYERS: It's still slim pickings and multiple offers are still going to be common for now. These market conditions make it very difficult for clients who have to sell a home at the same time they are trying to buy one and it must be contingent upon that home sale. Buyers have to make sure they get as many obstacles out of the way as possible when it comes to impressing the sellers.
Overall, the market continues to be a very active place with low inventory. In our biased opinions, it's very important to have a great agent and team by your side, whether you are buying or selling. If you are interviewing agents for the job to help you, please call us today to set an appointment.
You can all 484-696-4833.